Three Generations of Collectors
Our business is based on a long, over one hundred years old family tradition of collecting fine European and Oriental antiques and art, including antique arms and armour, started by my grandfather before World War II, a successful businessman in
the textile industry and an avid collector of art and antiques. His collections, along with all his wealth, were lost during World War II.
My parents continued this passion for collecting after World War II. My father's collection was well known among art and antique collectors and museums.
Since childhood, I have shared my parents' passion for collecting. I was fascinated by oriental art, particularly Islamic art, as well as antique arms and armour.
From an early age, I visited museums and bought books from around the world to broaden my knowledge, which I still do today.
When I was 10 years old, my father's friend, one of Europe's most famous experts in the field of antique arms and armour holding a full professor degree and at the same time the president of the Association of Arms and Armor Collectors, knowing my knowledge in the field of antique arms and armour, asked me at the monthly association meeting held at the museum (where I always went with my father) to express my opinion on his forthcoming book on antique edged weapons. To everyone's delight, I found two errors in the descriptions of two swords illustrated in this book! The professor thanked me publicly for pointing out these two errors, which were later corrected.
My early passion for collecting involved buying antiques for my parents' collection and then for my private collection, which led me to become an antique dealer in the 1970s.

In 1983, we opened our doors to the public. For many years, our gallery was located in the world-famous Art and Antiques district on Yorkville Ave in downtown Toronto Canada.
As a historian, I am fascinated by the art of different cultures and periods, which is reflected in the diversity of objects in our stock.
For decades, I have been a consultant to the Department of Near Eastern and Asian Civilizations (NEAC) at the Royal Ontario Museum (ROM) in Toronto, Ontario, Canada. I have often been asked to consult on new museum acquisitions.
We have been invited several times to loan our objects for temporary exhibitions to the ROM.
Over the course of 40 years, I have appeared several times on various television stations in programs related to antiques.
Our clients are museums, dealers, and of course, private collectors, those who succumb to their passion at home and those known from the media and headlines. Many of our business relationships have turned into personal friendships.
I have been providing expert services for museums, insurance companies, auction houses, and collectors for decades.
Presently we run our business solely online from our office in Ottawa.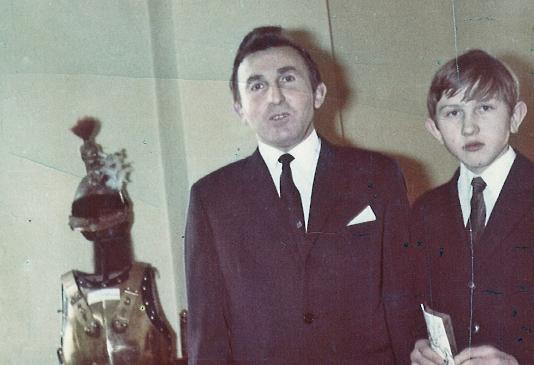 The photo below shows me and my father when I was ten years old
during the exhibition of military antiques from private collections.
The exhibition was held in the museum, where, among many objects, we also exhibited a French Napoleonic cuirass and helmet
with which this photo was taken.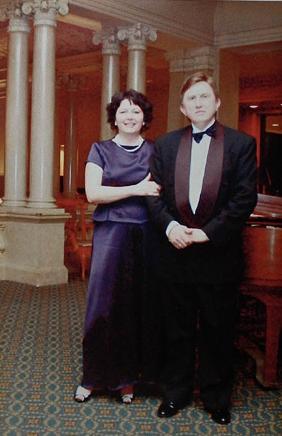 My wife and I at the grand opening of our gallery.
Contact
150 Elgin Street, suite 1000
Ottawa, Ontario
K2P 1L4
Canada
© Copyright Hundred & One Antiques